Now that the chicken feeders have been chosen, I need to decide the method of keeping my chickens well watered. My search for chicken drinkers or chicken watering containers followed a similar process to my search for the chicken feeders. I found a range of prices within the chicken drinkers market, ranging from diamond encrusted bowls (that's the expensive end for anyone that couldn't work that out) to the budget bowls that can be re-purposed from a variety of sources. This spread of prices comes with a variety of types of drinker which can be classified into a simple dish that is filled on a daily basis to an automatic dispenser.
Being a person that likes his gadgets, the automatic dispenser was the option that appealed to me. Now the automatic dispenser is not like something that you or I would buy a can of coke from within a canteen, nor is it a place where a chicken deposits a egg for a sip of water. My research showed that these egg deposit drink dispensers have not been as successful as hoped within early trials with no chicken surviving the rigorous training program.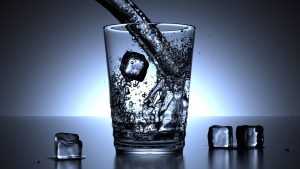 The automatic dispensers allow for less maintenance as they require filling less often and are opened by the chicken through a nibble device that the chickens must push to dispense a drop of water. This is a similar principal to what I have seen in a hamster water bottle, though the design is adapted to be more suitable for chickens.
I looked at the popular options for re-purposed items that I could use for a chicken drinker. I found that anything that could crack is a no go. This is not from a point of the chickens kicking it around the pen, but a glass, porcelain or a plastic plate or bowl could crack and break if they were to become iced up. I found that a stainless steel dogs bowl could work well for this purpose as long as the rim was narrow enough to discourage the chickens from perching on it. And where the chickens perch shall not remain fresh drinking water for long.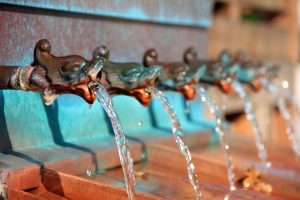 A good tip that I found for iced up chicken drinkers like the stainless steel bowls was to turn them upside down and run some warm water over the bowl. The ice would gently release from the pan and could be filled up with fresh water.
The automatic watering systems were my preference for chicken drinker type, particularly as the chickens can easily share drinkers. The automatic dispensers help to reduce the daily chores and keep the water fresh, but these do however have a few drawbacks.
• Some require plumbing into the household water system increasing expenses.
• They may clog either in an open or a closed state, each with fairly severe consequences.
• They need a routine flush of the system with disinfectant to remove  algae.
• The chickens may not know how to use the system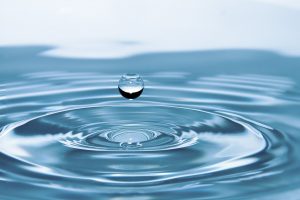 I preferred an option for a reservoir to hold a bucket of water and release it into a dish as the chickens drink. The reservoir does need checking on a daily basis, but I was happy with this as I would be doing my other chores anyway. I found it best to change the water on a daily basis to ensure it was always fresh for them.