Things are starting to come together for my entry into chicken keeping, and the next item on my list is nesting. I thought that the perfect way to ensure that my chickens are comfortable within their nest would be to research into how chickens nested in the wild. I learnt that in the wild, chickens do not build nests like other birds, they scratch out a hollow in loose vegetation or soil and sit in it. This was immediately sounding like a bad idea to me. I pictured myself hunting around in the garden to find the freshly laid eggs, while tripping over the newly formed 'pot holes', spraining my ankle, then dropping and breaking all of my newly collected eggs.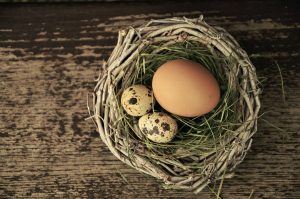 My fellow chicken keeping friends all used nest boxes where the eggs are layed in exactly the same place every day. This appeared to be much more sensible, compared to a daily Easter egg hunt. Not to be deterred from expanding my chicken knowledge I continued reading my 'How to twist an ankle in 80 ways' chicken keepers book.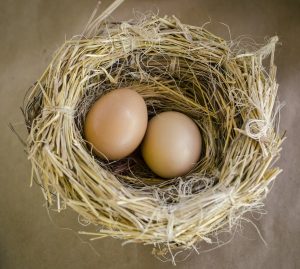 I started to come across some more practical advice and found that chickens like to have the nest deep enough so that when they sit in the nest, the tops of their backs are at the same height as the nest wall. This sounded much more sensible and more fitting with my medical insurance.
I finally came to a section on nest boxes and the first thing for me to decide is the number of nest boxes that I would like. Nest boxes appeared to come as either a single nest box or some multiple of two nest boxes fixed together in a horizontal bunk bed type arrangement. The 'all in one chicken coop' that I was looking at also came with built in nest boxes. Noting the newly acquired information on wild chicken nesting preferences I wanted to ensure that my chosen nest boxes were deep enough and wide enough to allow the chickens enough room to scratch around and create their perfect nest.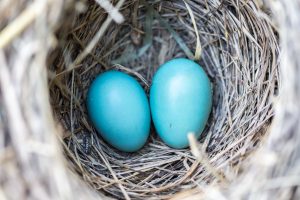 For nesting material there appears to be quite a wide choice of materials suitable for this. I found that some materials can also be dangerous for chickens so things like cat litter and whole leaves should be avoided. A low maintenance choice of a rubber matting had appealed, as this would be very easy to clean, but I decided to go for a more natural approach for my chickens and chose chopped straw. This would allow my chickens to feel closer to their natural habitat and hopefully happier.